An evening in memory of Sariya Lakoba was held at the Russian Drama Theater in Sukhum.
Said Bargandzhia
An evening in memory of Sariya Lakoba, the wife of a famous Abkhaz political and social activist and one of the most prominent leaders of Abkhazia, Nestor Lakoba, was held at the Russian Drama Theater in Sukhum on December 5.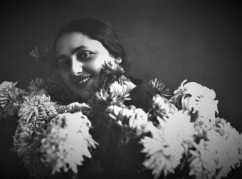 Sariya Lakoba: loyal to Nestor and Abkhazia
In 2019, the 80th anniversary of the passing of this outstanding Abkhaz woman was marked, and the evening performance was dedicated to this date (Sariya Lakoba died on her 35th birthday in Tbilisi in the Ortachal Prison Hospital on May 16, 1939 - ed.).
RUSDRAM actors talked about the difficult fate of a young woman.  The play was based on archival documents, recollections of Sariya's cellmates, important and tragic facts from her life.  The director of the performance is the People's Artist of Abkhazia Dzhambul Zhordania.  The screenwriter is a famous Abkhaz historian and political figure Stanislav Lakoba.
He admitted that it was difficult to prepare the material, at the same time, he studied the biography of Sariya Lakoba for many years, and this "helped to find the main points and nodes from which the entire architecture of the performance was built".
"Of course, it's not for me to judge how everything turned out, but according to the reaction, everything went at a high level.  The color of Sukhum of that time is conveyed.  Very rare archival documents, photos were presented.  They also created an important atmosphere.  Saria is a woman who showed herself extraordinary.  Nobody withstood these terrible tortures, but she remained unconquered," Lakoba said.
One of the authors of the idea of ​​organizing an evening in memory of Sariya Lakoba is Lyudmila Maliya, director of the Nestor Lakoba historical and memorial museum. She expressed gratitude to the actors of RUSDRAM and said that the evening was very moving and warm.
"We want the truth to finally triumph, so that Sariya is not forgotten.  We want a monument to be erected for her, that it will become a common cause, and that the monument should be built by people themselves from their hearts," the director of the museum shared.
Sariya Lakoba was played by RUSDRAM actress Milana Lomia.
"I can't say that I played Sariya Lakoba, - the actress said.  - I just tried to reproduce a certain small part of her life.  It was more of a documentary review.  It was very difficult to prepare for it."
Despite the fact that the hall was full, there was complete silence.  People, most of whom are familiar with the life story of Sariya Lakoba, were again and again surprised at her heroism.
"I don't want to say anything.  Emotions have not yet left me.  Now I won't sleep all night.  She is so ... She is so great! " the spectator Samantha Marchan shared her impressions.
An exposition from rare archival photographs of Sariya Lakoba with her relatives was presented in the foyer of  RUSDRAM, as well as copies of various documents showing the difficult life of this courageous woman.
"Two years of torture, beatings, bullying - but she did not break.  Her husband was no longer alive, but she still did not betray him.  Even a son was beaten before her eyes, and she did not call her husband an enemy of the people.  This is greatness that causes goosebumps.  Tears came to my eyes," said the spectator Miranda Agrba.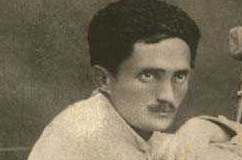 Nestor and Abkhazia
The performance lasted about an hour and, of course, could not fully tell about the short, but so eventful life of the great Sariya Lakoba.  The audience did not disperse for a long time, sharing their impressions and admiring her stamina and courage.
Sariya Lakoba at the age of 16 became the wife of an outstanding Abkhaz politician, chairman of the Council of People's Commissars of Abkhazia, chairman of the Central Executive Committee of the Abkhaz ASSR Nestor Lakoba. After his death Sariya was arrested and subjected to severe torture: she was required to admit that her husband was an "enemy of the people" who conducted anti-Soviet activities.  However, the young woman did not recognize this, showing exceptional stamina.  She died at the age of 34 at the Tbilisi Prison Hospital in 1939.