Despite the strong influence of urbanization and the weakening of villages, the life of Abkhaz and Abaza settlers in Turkey retained many traditional features that can be observed in modern national villages.
Asta Ardzinba
If you are in Turkey and see a flat green lawn in front of the house and a spacious yard - you should know that the Abkhaz or Abaza family probably lives here. Abkhaz and Abaza estates differ in spacious yards. This is directly related to national traditions and the ancient custom of hospitality.
Courtyard for the guest: in Turkey like in Abkhazia
Any significant family event - be it a wedding, birth of children, someone's anniversary or even a funeral - always gathered up to several hundred people in an Abkhaz house. This number of guests needed to be placed somewhere. Tables with refreshments are arranged in the country yard. The outbuildings were always a distance from the house, the yard was never built up.
This tradition has been preserved by compatriots in Turkey. Abkhazian settlers settled in compact, as whole communities. This allowed them to always be among their fellow tribesmen and to preserve their traditional way of life.
Villages with double names
One of the largest Abkhaz villages in Turkey is Balbaly, or, as the local Abkhaz call it, Caldahuar. It was founded by people from the village of the same name in Abkhazia in the 19th century: migrants, experiencing nostalgia for their homeland, gave this place in the Sakaria region a native Abkhaz name.
This is a common practice among the Turkish Diaspora, so in Turkey you can meet such familiar for Abkhaz names of localities as Chlou or Djgard. At the same time, the official names of these places are Turkish.
Landscapes for the soul - almost like in the "land of the soul"
In early May, poppies bloom in the Black Sea provinces of Turkey. The country road to Balbaly is also littered with bright red flowers. There are no such flowers in Abkhazia, but otherwise the landscapes are very similar. As in Abkhazia, there are corn fields everywhere.
Everyone who is at least a little familiar with traditional Abkhazian cuisine knows that corn flour is an important product in Abkhazian cuisine: without it, you cannot cook the main dish of the Abkhaz table - abysta.
The villages are well-groomed, the streets are landscaped, you can't see garbage on the sides of the road. Two-story houses are being built here, and, just like in Abkhazia, they love spacious verandas and balconies.
Once upon arrival in Turkey, the Abkhaz and the Abaza tried to settle in areas that would resemble their historic homeland. They searched for areas in terms of landscape, terrain and climate similar to the Caucasus. That is why some Abkhaz villages in Turkey resemble Abkhazia so much.
On the traditional way of life and language assimilation
According to researchers, in Turkey today there are up to 230 Abkhaz-Abaza villages.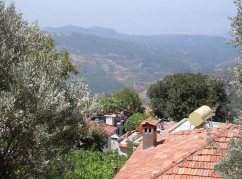 Two new Abkhaz villages will become part of the Federation of Abkhaz Cultural Centers of Turkey
In the center of any Abkhaz or Abaza village, as a rule, there is a so-called cultural center. This is a small building where lessons of the native language and choreography take place, handicraft workshops function. The first thing you will see when entering such a building are photographs of Abkhazia hanging on the walls and portraits of prominent figures of the Diaspora. In cultural centers, compatriots meet, communicate, hold celebrations and receive guests from Abkhazia.
Until recently, native languages prevailed in Abkhaz and Abaza villages in Turkey. Now they are used less, especially in villages with a mixed ethnic population. In such regions as Düzce and Sakaria, people of the older and middle generation speak their own language and use it in communication with each other. In other provinces, especially in the northeast of the country, the process of language assimilation is more obvious.
The last forty years in Turkey have seen high rates of urbanization. Young people leave the villages for a better life in the city. This process has not bypassed the Abkhaz and Abaza villages, which have become much smaller. However, in general, compatriots in Turkey remain in touch with the village, which remain islands of their native culture in a foreign land.