News
02/09/2019
11:10
16166
WAC congratulated first-graders of Abkhazia on the first school day and distributed school notebooks.
Said Bargandzhia
On the Knowledge Day, the WAC distributed five thousand school notebooks to first-graders of Abkhazia, on the back of which the Abkhaz alphabet and national symbols were printed.
 Commenting on the event, the head of the Women's Councils of the Congress, Geta Ardzinba, recalled that the WAC actively supports humanitarian and charity events.
"Our action on the Day of Knowledge is a continuation of the action "Soul Warmth" (the action of the WAC, which was held in 2018-2019 in Abkhazia and the KChR and consisted in the distribution of sets of clothing to low-income families - ed.).  We tried to assist in the work of the Ministry of Education of the Republic by supplying schools with notebooks.  4,000 notebooks were handed over to the Ministry.  300 notebooks were also handed over to first-graders of the CPO "Kiaraz".  Notebooks will be addressed to Lykhny, Bedia and Bzyp schools.  Thus, the WAC congratulated all first-graders," said Ardzinba.
 The press secretary of the Ministry of Education and Science of Abkhazia Aslan Kutelia expressed gratitude to the WAC and noted the importance of such actions.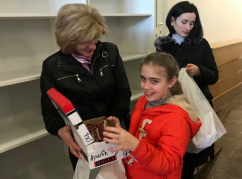 Over 1000 children received new winter clothes: WAC summed up the "Soul Warmth" action
 "All notebooks received will be transferred to first-graders of the Republic. To date, notebooks have already been distributed to schools in the Gudauta district, as well as to Sukhum secondary school No. 1 and the Ochamchira boarding school.  In the coming days, first-graders of other schools in Abkhazia will receive notebooks," the spokesman said.
Kadyr Argun, the representative of the CPO "Kiaraz", also thanked the World Abaza Congress.  He said that "Kiaraz", in turn, over the past five years has been helping families in need to bring their children to school, providing them with school supplies.
"This is not the first time the Congress has supported our organization.  It is very pleasant when our compatriots, our brothers are standing next to us.  For families in need, this is a great support," said Argun.
Mussa Ekzekov, Chairman of the Supreme Council of the World Abaza Congress, congratulated the students, noting that Knowledge Day is a special holiday: it "opens the way to a new, wonderful world" that "gives the joy of knowledge and selfless friendship."
"Today, someone will sit at the school desk for the first time, and someone will call himself a student for the first time.  On the Day of Knowledge, I congratulate not only students and teachers, but everyone.  Because education is the most important factor in the formation of a himan's personality.  This is an enduring value, the guarantee of human progress, the foundation of society and the state," said Ekzekov.
In 2019, 27,000 students will study in schools in Abkhazia, of which about 3,000 are first-graders.